Dear Rosemead Community and Friends,
A TRIBUTE AND EXPRESSION OF APPRECIATION FOR MR. RANDALL CARL CANTRELL, TRUSTEE – A VERY DEDICATED MAN, WHO ENDLESSLY SERVED THE ROSEMEAD SCHOOL DISTRICT STUDENTS, FAMILIES, SCHOOLS, AND COMMUNITY
Born on May 21, 1952, Trustee Mr. Randall Carl Cantrell raised his family in the City of Rosemead. Mr. Cantrell and his beloved wife Jan were involved and a dedicated duo who volunteered countless hours to several Rosemead schools.
Mr. Cantrell began his service to the Rosemead School District in 1989 and passed on April 22, 2017.
Randy will always be remembered as… A person who made life easier and better for everyone around him… A person who did so much for the Rosemead School District community and his actions will glow in every memory he left behind, reviving the laughs that were shared throughout the years…
The Rosemead School District Board of Trustees, Administration, Staff, Students, Families, and the Community appreciates everything he did, and give thanks and appreciate the Cantrell family for sharing Randy with us.
Please keep Randy and his family in your thoughts and prayers during this difficult time.
---
MUSCATEL MIDDLE SCHOOL – 2016-17 PROMOTION CEREMONY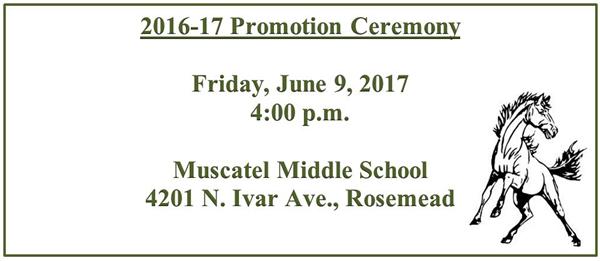 ---
TRANSITIONAL KINDERGARTEN, KINDERGARTEN, AND 1ST-8TH GRADE ONLINE ENROLLMENT
Enrollment for our 2017-2018 school year has begun. We have implemented our new online enrollment process for Transitional Kindergarten, Kindergarten, and 1st through 8th Grade enrollment. Please visit the District website at www.rosemead.k12.ca.us and click on "Online Enrollment System" on the mid-upper left hand side.
To enroll in Transitional Kindergarten, your child must turn 5 years old by September 2, 2017 through December 2, 2017. When you enroll your child for TK, be sure to select Grade K - we will make sure your child is placed in the correct class.
To enroll your child in Kindergarten, your child must turn 5 years old by December 3, 2016 through September 1, 2017. You MUST enroll your student in your school of residency.
1st through 8th Grade Program:
If you are enrolling your child(ren) in 1st through 8th Grade for the 2017-2018 school year you must enroll online to begin the process. Once you have enrolled online, please contact your home school for more information:
Encinita Elementary School: (626) 286-3111
Janson Elementary School: (626) 288-3150
Savannah Elementary School: (626) 443-4015
Shuey Elementary School: (626) 287-5221
Muscatel Middle School: (626) 287-1139
To enroll new a student, parents must provide the following documentation to the school site:
Proof of residency: Electric, Gas, Water, Trash or Landline telephone bill no older than 1 month with parent's name
Immunization Records: Students must have received all of the required shots to enter school
Birth Certificate or Passport
If your child does not meet the age qualifications for Transitional Kindergarten or Kindergarten, but you are interested in information regarding our State Preschool Program, please contact the Child Development Department at (626)312-2900 x235 for more information. Please do not use the online enrollment system for enrolling Preschool students.
Parents wishing to enroll their child in our district on an Interdistrict permit must contact Debora Stewart at the Educational Services Department for more information. Parents may not enroll online without approval of the permit and verification from the Educational Services Department.
---
PRESCHOOL REGISTRATION INFORMATION FOR 2017-2018
When: April 13, 2017 ~ June 2, 2018
Time: 8:00 am– 12:00pm
Location: 3907 Rosemead Blvd., Suite 150, Rosemead, CA 91770
Rosemead School District offers both full and part day programs for fully potty-trained 4 and 3 year-old children (Child must turn 3 by Sept 1, 2017).
Please bring the following documents to determine if your family is eligible for the State Preschool Program:
Child's birth certificate
· Proof of income for the family (pay stubs for the month of March)
· Immunization record (yellow card)
· Address verification
· Forms CD 9600 (this form is available in English, Spanish, Chinese, and Vietnamese on the Rosemead School District Web site http://www.rosemead.k12.ca.us and in the Child Development Office.
Note: Completing the CD9600 application does not guarantee enrollment in the State Preschool Program. You will be notified within 30 days of completing the CD9600 of your eligibility status.
---
IMPORTANT DATES & UPCOMING EVENTS:
For more information on any event listed below, please visit the Rosemead School District website at www.rosemead.k12.ca.us.
May, 2017
Wed., May 3, All Rosemead SD schools Late Start Day, school starts at 9:30 a.m.
Thurs., May 4, Board of Trustees Regular Board Meeting – 6:30 p.m. Closed Session/7:30 p.m. Open/Public Session, District Office Board Room
Wed., May 17, All Rosemead SD schools Late Start Day, school starts at 9:30 a.m.
Thurs., May 18, Board of Trustees Meeting – 6:30 p.m., District Office Board Room
Tues., May 23, Savannah Elementary School Open House
Wed., May 24, Encinita Elementary School Open House
Thurs., May 25, Emma W. Shuey Elementary School Open House
June, 2017
Thurs., June 1, Savannah ASES Lottery at 6:30 p.m.
Thurs., June 1, Board of Trustees Board Meeting – 6:30 p.m., District Office Board Room
Wed., June 7, Minimum Day 7-8th grade Students
Thurs., June 8, Minimum Day 7-8th grade Students
Fri., June 9, Last Day of School / Minimum Day K-8th grade Students
Fri., June 9, Muscatel Promotion Ceremony at 4:00 p.m.
Mon., June 12, Summer Camp 1st Day (6/12-7/28/17, 7 weeks, 7:00 a.m.-6:00 p.m., Kinder-7th gr students)
Thurs., June 22, Board of Trustees Regular Board Meeting – 6:30 p.m., District Office Board Room