Dear Rosemead Community and Friends,
2016-17 LOCAL CONTROL ACCOUNTABILITY PLAN (LCAP) PUBLIC HEARINGS
In compliance with legal requirements the Rosemead School District has the following two (2) public hearings scheduled for: Wed., June 8, 2016, 6:30 p.m., Muscatel Middle School, Library and Thurs., June 23, 2016, 7:15 p.m., Janson Elementary School, Multi-Purpose Room. The Board of Trustees invites the public to attend the public hearings and provide their input for the 2016-2017 Local Control Accountability Plan (LCAP). To download the full flyer and information, please visit: www.rosemead.k12.ca.us.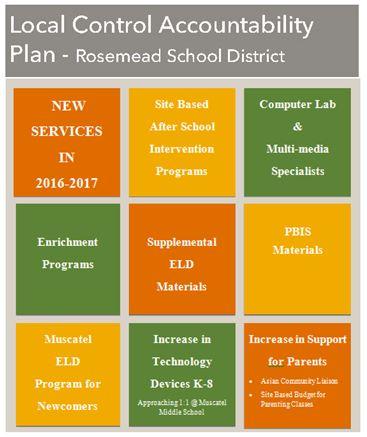 ---
SUMMER DAY CAMP – Sign Up Today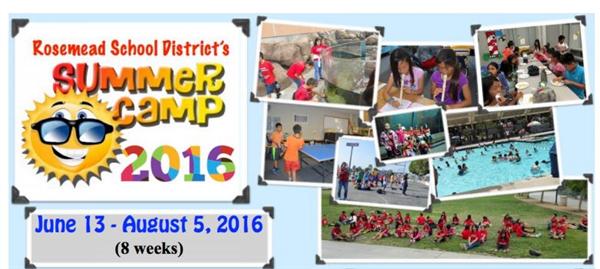 The Summer Day Camp Program is for students in Kindergarten – 6th grade:
$85.00 per week (10% discount if paid in full);
· Monday, June 13 – Friday, August 5, 2016 (8 weeks)
· hours: 7:00 a.m. to 6:00 p.m.;
· location: Encinita Elementary School, 4515 Encinita Ave., Rosemead; and
· Breakfast – Lunch – Snacks included and students are recommended to bring extra snacks.
To download the full flyer and information, please visit: www.rosemead.k12.ca.us or call (626) 312-2900 x235 for more information.
---
MUSCATEL MIDDLE SCHOOL, SCIENCE OLYMPIAD TEAM IS AMONG THE TOP TEN IN THE NATION
The Rosemead School District Board of Trustees and Administration would like to recognize the Muscatel Middle School, Science Olympiad Team for their accomplishments during the 2015-2016 school year.
The Muscatel Middle School Science Olympiad placed 9th Overall at the 2016 Science Olympiad National Tournament held at the University of Wisconsin-Stout (UW) hosted over 5,000 students, educators and parents from all 50 states during the 32nd Annual Science Olympiad National Tournament on May 20-21, 2016. Recognized as one of the nation's most prestigious science, technology, engineering and math (STEM) competitions, Science Olympiad brings together 120 winning middle school and high school teams advancing from state-level competitions this spring. Rigorous hands-on and lab events led by experts from government agencies, top universities, industry and Science Olympiad state chapters cover topics in robotics, physics, epidemiology, astronomy, chemistry, meteorology, coding and engineering.
The Board of Trustees and Administration would also like to recognize the dedicated efforts of all Science Olympiad families and Advisors and Coaches, see a list below:
Muscatel Science Olympiad Team: 7th graders: Darren Banhthai, David Diaz, Khuetu Doan, Roseanne Huang, Ada Lee, Andrew Lin, Getty Liu, Kiana Tran, Cindy Wong, and Nathan Wong. 8th graders: Wendy Chau, Karen Chu, Vicky Fann, Samantha Huang, AJ Jeng, Joshua Lin, Justin Lu, and Nareegam/Nancy Siridachanon. 9th graders: Khue-Dang Doan, William Li, Mia Masuda, Wilson Phan, Serina Quach, and Alice Tran.
Advisors: Rosemead School District Teachers Jun L. Lugue, Science and G.A.T.E. Teacher and Jeffrey Tulley, Science Teacher. Chaperones: Michael Musgrave (retired teacher) and Nancy Fann (former Science Olympiad student).
Coaches: Jing Hua Cai, Gary Chao, Kristie Diep, Jennifer Hang, Dunant Hin, Cindy Ly, Jonathn Ly, Respect Ly, Carol Mahoney, Alec Nguyen, Joseph Pham, Brian Phan, Helen Taylor, Daniel Tran, MyLinh Truong, Vincent Truong, Carlos Vizcaino, and Melissa Young.
The Muscatel Science Olympiad Team was awarded medals in the following four official events: 3rd place – Crime Busters (Vicky Fann and Joshua Lin); 3rd place – Bottle Rocket (Wendy Chau and Khuetu Doan); 4th place – Bridge Building (Vicky Fann and Alice Tran); and 6th place – Picture This (Wendy Chau and Alice Tran).
Previous National Placements:

2015: 8th

2014: 6th

2013: 9th

2012: 10th

2011: 4th

2010: 15th

2009: 6th

2006: 16th
Mrs. Dawn Rock, Director of Special Education and Student Support Services (and former Muscatel Principal), as well as Superintendent Dr. Amy Enomoto-Perez, were also in attendance.
On behalf of the students, parents and staff we thank the Rosemead Community for your continued support of the Science Olympiad Team through fundraising and donations. To help support the Science Olympiad Team, please feel free to donate: write a check, payable to Muscatel ASB (Science Olympiad). Your donation is tax-deductible. Send all donations to: Muscatel Middle School, C/O: Muscatel ASB (Science Olympiad), 4201 North Ivar Ave., Rosemead, CA 91770. For more information contact Mr. Jun Lugue at (626) 287-1139, ext 520 or email at jlugue@rosemead.k12.ca.us.
---
TRANSITIONAL KINDERGARTEN, KINDERGARTEN, AND 1ST-8TH GRADE ONLINE ENROLLMENT FOR 2016-2017
Enrollment for our 2016-2017 school year has begun. We have implemented our new online enrollment process for Transitional Kindergarten, Kindergarten, and 1st through 6th Grade enrollment. Please visit the District website at www.rosemead.k12.ca.us and click on "Online Enrollment System" on the mid-upper left hand side. If you have any questions or want more information please call Educational Services at (626)312-2900 x213.
---
PRESCHOOL REGISTRATION INFORMATION FOR 2016-2017
Dates: Monday – Friday
Time: 7:00 a.m. – 3:30 p.m.
Location: 3907 Rosemead Blvd., Suite 150, Rosemead, CA 91770
Rosemead School District offers both full and part day programs for fully potty-trained 4 and 3 year-old children (Child must turn 3 by Sept 2, 2016).
For more information please contact: Mrs. Lupe Jaimes at (626) 312-2900 x235 or via email at ljaimes@rosemead.k12.ca.us.
---
SCHOOL MEAL PROGRAM REGISTRATION – AUGUST 1 – 5, 2016
The Nutrition Services Department will be hosting their annual School Meal Program Registration during the week of August 1 – 5, 2016! The registration schedule is listed below (parent/guardians can go to any of the school sites listed, regardless of which school their child attends within the Rosemead School District):
| | | | |
| --- | --- | --- | --- |
| DATE | SCHOOL | ADDRESS | TIME |
| Mon., Aug. 1, 2016 | Encinita Elementary | 4515 Encinita Ave. | 8:00 a.m. - 2:00 p.m. |
| Tues., Aug. 2, 2016 | Janson Elementary | 8628 Marshall St. | 8:00 a.m. - 2:00 p.m. |
| Wed., Aug. 3, 2016 | Savannah Elementary | 3720 Rio Hondo Ave. | 8:00 a.m. - 2:00 p.m. |
| Thurs., Aug. 4, 2016 | Shuey Elementary | 8472 E. Wells St. | 8:00 a.m. - 2:00 p.m. |
| Fri., Aug. 5, 2016 | Muscatel Middle School | 4201 Ivar Ave. | 8:00 a.m. - 2:00 p.m. |
A new meal application must be submitted every school year. Eligibility is based on current household income and household size. Eligibility is not based on last year's status. Each household must have a completed meal application for the 2016-2017 school year on file to be eligible to receive free or reduced-price meals (unless Directly Certified due to participation in certain assistance programs, including CalFresh, formally known as Food Stamps, CalWORKS, FDPIR, and KinGAP). If you have any questions, please call (626) 312-2900 x254 or 255.
---
To view the full article, please visit the June, 2016 article under "Archived Superintendent's Messages."