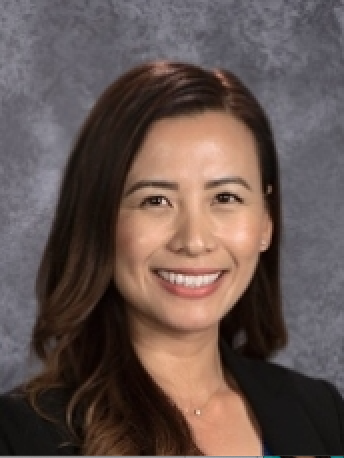 Phone:
Email:
Degrees and Certifications:
Welcome Back, Eagles!

Dear Encinita Leaders,

Welcome back to the new school year! While information regarding Covid protocols continues to change, we anticipate returning to a "regular," in-person, five day school week, full schedule this school year. We are eager to welcome you back on our campus for the 2021-2022 school year. Our first day of school is August 18, 2021. School starts at 8 am and dismisses at 12pm for the first day. Aside from Late Start Wednesdays when school starts at 9:30am, we expect all students to arrive no later than 7:50am every day.

Aside from persevering through distance learning, we have a lot to celebrate. This year, we are adding 1st grade to our Dual Language Mandarin Immersion (DLI) program, complementing our existing DLI Mandarin preschool and Kindergarten program. Recently, our school was recognized by the California PBIS Coalition with the Gold Level Award for successfully implementing Positive Behavioral Interventions and Supports (PBIS). We were honored with the 2021 Enchanted Entryway Award by the City of Rosemead. We received the 2019-2020 CBE Honor Roll School Award for academic excellence and was named a 2020 iReady Distinguished School for Remote Learning Success by Curriculum Associates. Thank you to our entire RSD community for your continued support. Congratulations, Eagles!

While we anticipate the first day of school on August 18, here is some important information to help you prepare for your return:
Welcome Back/Registration Fair is Thursday, August 12

from 8:30am-3pm on our Kindergarten playground.

All students, returning and new, must complete the annual online PowerSchool Parent Portal Registration process

. On this day, you will receive your child's class assignment once all forms are completed.

Establish a consistent routine

: bedtime, meals and wake-up time should always be as consistent as possible. We encourage all our students to get 10 hours of sleep.

Students are dressed appropriately for school.

The use of school uniforms will be optional for the 2021-2022 school year. Students will still be required to wear clothes that are suitable for school and do not present a health hazard or a distraction which would interfere with the educational process. We would like to encourage students to wear traditional uniform colors and/or school sponsored clothing, although this is not a requirement.

Facial masks will be required for all individuals in indoor settings.

Students will have the option of removing their masks while outdoors and when eating or drinking. Students will be allowed to continue to wear masks in outdoor settings if they so choose.

Our school office is open starting Friday, August 13 from 7:30am-4 pm daily to assist you.

The first day of school is Wednesday, August 18.

Gates open at 7:30am. Breakfast is available daily from 7:30-7:50am. Students will eat breakfast during their recess on Late Start Wednesdays.

Students are dismissed at 12pm on the first day of school.
Save the Date: Virtual Back-to-School Night is Wednesday, August 25

from 6:30-7:30pm.
Let's stay connected:
Twitter: Encinita@PrincipalChang

Join our Remind group for the 2021-2022 school year: Send a text to 81010 with the message @deg4aec

Visit

www.rosemead.k12.ca.us/encinita

for Sunday Messages and updates.
Families and staff, we can't thank you enough for all your support and partnership. You play an integral role in your child's learning and we look forward to our continued collaboration. We can't wait to see you again! Stay EAGLE STRONG.
Respectfully,
Dr. Linda Chang
Principal
lchang@rosemead.k12.ca.us