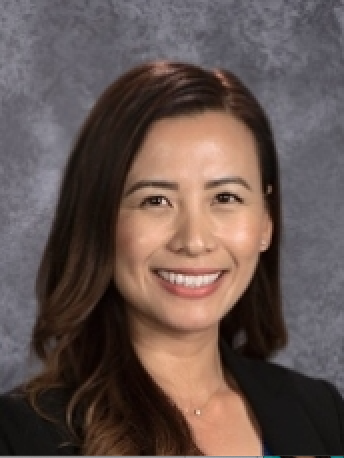 Phone:
Email:
Degrees and Certifications:
Welcome Back, Eagles!

Welcome back to the new school year, Encinita Leaders!

I hope you had a relaxing summer with your family. Because we are trying to keep everyone healthy, we will be starting the 2020-2021 school year with distance learning.

I know this is not how we envisioned the start of our new year, but we are excited to embrace this opportunity to expand our technological abilities and discover innovative ways to learn. Our teachers and staff are attending professional training throughout the year to add to our repertoire of skills so that we can better support you in this new way of learning.

We also have wonderful news to celebrate. This year, we are premiering our Kindergarten Dual Language Mandarin Immersion program, adding to our DLI Mandarin preschool program. You may have also noticed the construction happening at Encinita over the summer. A freshly painted school with murals, new landscaping, two outdoor classrooms and a sparkling clean school will be waiting for you when we can welcome you back on campus. We can't wait for that day to come!

In the meantime, here is some important information to help you prepare for Distance Learning:
Establish a designated work station at home for learning

Make sure you have a chromebook from our school if you do not already have one at home. Cell phones and tablets are not permitted for daily learning.

Sign into Google Classroom each morning for teacher instructions and schedules.

Live instruction starts at 8:30 am for all students via Zoom.

Students are dressed appropriately for school. Cameras are on during instruction.

Meals are served Wednesdays and Fridays from 7-8 am and 11:45am-1pm at our Lower Azusa Drive-through Parking Lot.

Our school office is open 7:30am-4 pm daily to assist you.

Attendance is taken daily.
If you need assistance and must visit our school office (7:30 am-4pm), please make sure you follow our health and safety protocol:
Please knock. We have a limit of 4 people in our office.

Your temperature will be checked at the door.

Please wear a face mask.

Please social distance with a minimum of 6 feet.
Although we are not seeing each other in person, we love seeing your faces and your active engagement in our online classrooms. Families, thank you so much for your support and partnership. You play an integral role in your child's learning and we look forward to collaborating with you. We will continue to learn, grow and lead TOGETHER. Stay EAGLE STRONG, leaders. We will see each other in person again, soon! Be well and stay healthy.
Respectfully,
Dr. Chang