MUSCATEL MIDDLE SCHOOL PROMOTION CEREMONY (New Date!)
Muscatel Middle School Promotion Ceremony will held on Wednesday, June 8, 2016 with certificates to be distributed on the last day of school – Friday, June 10, 2016
2016 ROSEMEAD PTA COUNCIL FOUNDER'S DAY RECIPIENT
Each year, our schools award the Founder's Day award to a person or persons. This year, Mrs. Krista Dixon is the honoree for the PTA Council. Congratulations to all of our recipients!
Pictured (L to R): Mrs. Krista Dixon
and Mr. Dean Wharton
2016 GOLDEN APPLE AWARD
It is with great pleasure that the Northwest San Gabriel Valley Administrators Association and the Rosemead School District Administrators bestowed its 2016 Golden Apple Award upon Mrs. Marilyn Morrison Keiper. Mrs. Keiper, a former teacher, who worked for our district for 52.5 years is a very special lady. She grew up in our district and went there as student and after college came back and taught for our district when hired by Mildred B. Janson her former middle school teacher. Below is a brief listing of Mrs. Keiper's achievements.
Educational Foundation – Since retirement, Marilyn Keiper has spent 8+ years as a volunteer and a board member to our then newly formed Foundation. Those beginning years required much work but since then the Foundation has raised tens of thousands of dollars to help underserved programs such as music and art, the Science Olympiad and Teacher mini grants. These funds help support and promote innovation in Science, Arts and classroom instruction today. We thank her for being a board member and for your contributions.


As District and School Historian – Marilyn Keiper has/had become the somewhat self-appointed district historian during her years of service with the district. She was and is a caring teacher and community member. She took off ½ year due to the birth of her son Ed. Otherwise Marilyn had perfect attendance and only missed one day due to the loss of her husband Ed. She always had a camera in hand. At every event, assembly or program, she will be remembered her taking a photo, a video or film of an event. Marilyn was quite the "techie" back then sporting a new camera or video camera and microphone. Marilyn and Ed Keiper started the Janson Pow Wow and each year before Thanksgiving Marilyn and her fellow teachers re-enacted the 1st Thanksgiving of our country.

Due to those activities and through her donations of albums, photos and story; we have been able to chronicle and preserve the Rosemead School District history. Without her contributions to our 125th, 150th and 155th district celebrations could not have happened. Thank you again, Marilyn.


Support of our three 3 School Modernization Bonds (Measure RR, R and O) – Mrs. Keiper's support of these three (3) school bonds and successful passage of them allowed our school district to install new infrastructure telephones in the classroom, new safety devices for fire and emergencies and modernize every classroom, office, restroom and multi-purpose room on each campus. Marilyn's voice and support in the campaigns were essential. We thank you Marilyn for ALWAYS supporting our schools and community.
Last but not least thank you to Marilyn's family.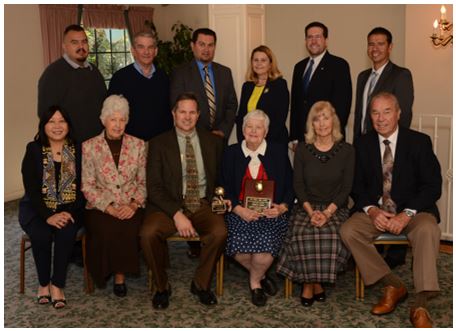 Pictured (L to R): front row: Dr. Amy Enomoto-Perez, Superintendent; Mrs. Nancy Sherke; Mr. Ed Keiper; Mrs. Marilyn Keiper; Mrs. Sue Kochnick; Mr. George Kochnick; back row: Mr. Alex Gaeta, Network Administrator; Mr. Dean Wharton, Educational Foundation President; Mr. John Lovato, Assistant Superintendent, Educational Services; Mrs. Deborah Lawrence, Administrative Intern; Mr. Ronald Esquivel, Board of Trustees President; and Mr. Gabriel Cardenas, Janson Principal.
CONGRATULATIONS MUSCATEL SCIENCE OLYMPIAD TEAM!
The Muscatel Science Olympiad Team is proud to share that it won its 12th straight Los Angeles County Science Olympiad Championship Title in the middle school division on Saturday, February 27th at Occidental College.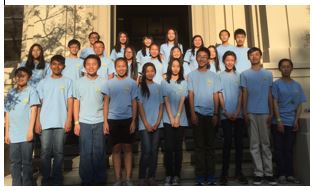 Pictured: 2016 Muscatel Science Olympiad Team


Out of 23 competition events at this year's county finals, the Muscatel team medaled and placed as follows:
1st in 4 events: Crime Busters, Fossils, Meteorology, and Mission Possible
2nd in 4 events: Bridge Building, Dynamic Planet, Green Generation, and Scrambler
3rd in 6 events: Anatomy and Physiology, Bio Process Lab, Bottle Rocket,
Crave the Wave, Disease Detectives, and Wind Power
4th in 2 events: Reach for the Stars and Road Scholar
5th in 2 events: Air Trajectory and Experimental Design
6th in 4 events: Elastic Launched Glider, Food Science, Picture This, and Write It-Do It
Muscatel Middle School was one of the top 10 schools out of 40 participating middle schools in Los Angeles County. For more information about the Los Angeles County Science Olympiad, please visit www.lacountyscienceolympiad.org.
CONGRATULATIONS ELEMENTARY SCIENCE OLYMPIAD TEAMS ON YOUR ACCOMPLISHMENTS
Competing against 60 elementary schools from across Los Angeles County in the 30th annual Science Olympiad, the Savannah team brought home a gold medal, Janson a silver medal, and Shuey a bronze medal. Congratulations to all teams for your accomplishments!
Thank you to all the parents, staff, and volunteers who sponsor and support our Science Olympiad teams; but most of all to the dedicated students who endure countless hours of dedication and accomplishment.
TRANSITIONAL KINDERGARTEN, KINDERGARTEN, AND 1ST-8TH GRADE ONLINE ENROLLMENT FOR 2016-2017
Enrollment for our 2016-2017 school year has begun. We have implemented our new online enrollment process for Transitional Kindergarten, Kindergarten, and 1st through 6th Grade enrollment. Please visit the District website at www.rosemead.k12.ca.us and click on "Online Enrollment System" on the mid-upper left hand side. If you have any questions or want more information please call Educational Services at (626)312-2900 x213.
PRESCHOOL REGISTRATION INFORMATION FOR 2016-2017
When: April 4, 2016 ~ June 3, 2016
Time: 8:00 am– 12:00 pm
Location: 3907 Rosemead Blvd., Suite 150, Rosemead, CA 91770
Rosemead School District offers both full and part day programs for fully potty-trained 4 and 3 year-old children (Child must turn 3 by Sept 2, 2016).