Dear Rosemead Community and Friends,
CONGRATULATIONS MUSCATEL MUSTANGS, CLASS OF 2016
The Rosemead School District congratulates the hundreds of 8th graders who crossed the stage on Wednesday, June 8, 2016 at Muscatel Middle School, home of the mustangs.
Members of the Muscatel Class of 2016 have made the District proud, and will soon move on to high school.
On this bright sunny evening, our Board of Trustees, administrators, families, and the Rosemead community witnessed the promotion of these teens into high school, their next step of life. Guests were treated to wonderful speeches from the Student Body President Miss Ashley Tran, Valedictorian Miss Kayla Ly, and Salutatorian Miss Vicky Fann, addressing their classmates, recalling challenges & triumphs and hopes for their future, while others watched in awe of the class accomplishments.
During the program there were several awards presented including: "ROSY Award" presented by Bob Bruesch on behalf of the Rosemead Kiwanis Club, the "Charles Nickloff Award" presented by Nadine Wilcox, R.N./President on behalf of the Rosemead Teachers' Association (RTA), and the "Bud Williams Award" presented by Mr. Alejandro Gaeta, President of the Educational Foundation for the Rosemead School District.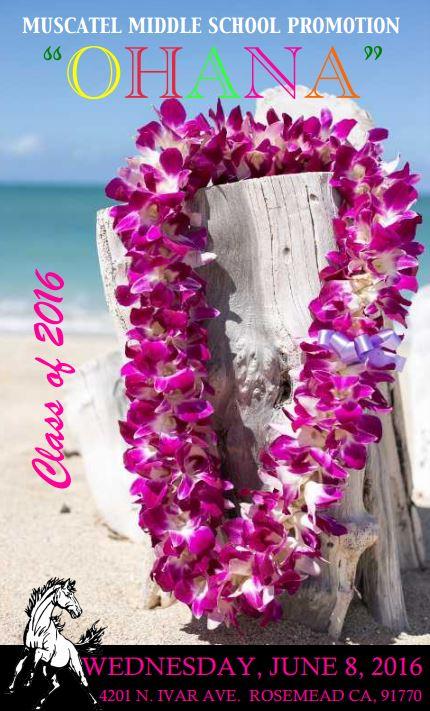 Congratulations to the Rosemead School District, Muscatel Middle School Class of 2016! In the spirit of the promotion program, "Ohana."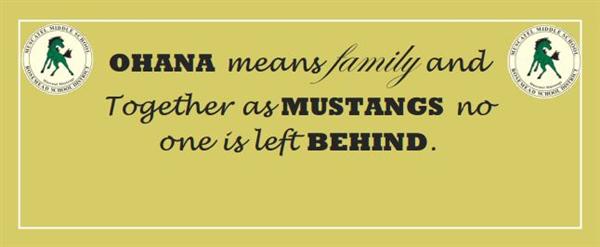 ---
SUMMER DISTRICT NEWS AND THE START OF THE 2016-2017 SCHOOL YEAR
As we move into the middle of summer school and into August, please remember that there are important dates to calendar for your children in our schools. The district school calendar is posted on our home page of our district website at: www.rosemead.k12.ca.us. You can also check in with our school site websites via the pull down located along the top of your web browser.
Enjoy the rest of your summer and see you on the 1st day of school – Monday, August 22nd, 2016.
---
CONGRATULATIONS TO ALL OUR DEDICATED RETIREES
On behalf of the Rosemead School District, Board of Trustees, Administration, and Staff, we congratulate the 2016 Retirees and thank them for their dedicated years of service:
| | | |
| --- | --- | --- |
| Name | School | Yrs of Svc |
| Becerra, Carmen | Encinita | 14 yrs |
| Cook, Citlai | Encinita | 44 yrs |
| Davenport, Sharon | Janson | 15 yrs |
| Diaz, Ida | Savannah | 38 yrs |
| Elliott, Mary Jill | Savannah | 17 yrs |
| Harrington, Kathy | Janson | 26 yrs |
| Johnson-Loomis, Beverly | Encinita | 30 yrs |
| Kawamoto, Leah | Janson | 42 yrs |
| Lam, Choon Peng | Encinita | 25 yrs |
| Mills, Frances | Janson | 30 yrs |
| Sanchez, Maria | Encinita / Muscatel | 8 yrs |
| Zelada, Michelle | Janson | 26 yrs |
---
SUMMER DAY CAMP – Sign Up Today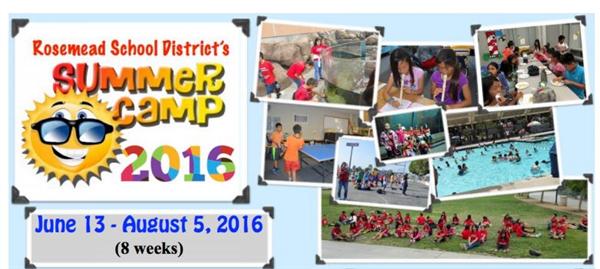 The Summer Day Camp Program is for students in Kindergarten – 6th grade:
$85.00 per week (10% discount if paid in full);
· Monday, June 13 – Friday, August 5, 2016 (8 weeks)
· hours: 7:00 a.m. to 6:00 p.m.;
· location: Encinita Elementary School, 4515 Encinita Ave., Rosemead; and
· Breakfast – Lunch – Snacks included and students are recommended to bring extra snacks.
To download the full flyer and information, please visit: www.rosemead.k12.ca.us or call (626) 312-2900 x235, for more information.
---
TRANSITIONAL KINDERGARTEN, KINDERGARTEN, AND 1ST-8TH GRADE ONLINE ENROLLMENT FOR 2016-2017
Enrollment for our 2016-2017 school year has begun. We have implemented our new online enrollment process for Transitional Kindergarten, Kindergarten, and 1st through 6th Grade enrollment. Please visit the District website at www.rosemead.k12.ca.us and click on "Online Enrollment System" on the mid-upper left hand side. If you have any questions or want more information please call Educational Services at (626)312-2900 x213.
---
PRESCHOOL REGISTRATION INFORMATION FOR 2016-2017
Dates: Monday – Friday
Time: 7:00 a.m. – 3:30 p.m.
Location: 3907 Rosemead Blvd., Suite 150, Rosemead, CA 91770
Rosemead School District offers both full and part day programs for fully potty-trained 4 and 3 year-old children (Child must turn 3 by Sept 2, 2016).
For more information please contact: Mrs. Lupe Jaimes at (626) 312-2900 x235
or via email at ljaimes@rosemead.k12.ca.us.
---
ENCINITA's GIVING PROJECT OF EDUCATION THROUGH HEIFER'S INTERNATIONAL – AN ANNUAL SOCIAL EMOTIONAL BY RAISING MONEY TO HELP END WORLD HUNGER AND PROVERTY
For the past three years, Encinita upper grade students have been making a difference by raising money to help end world hunger and poverty, and giving the gift of education through Heifer's International. Our students were inspired by a book called Beatrice's Goat by Beatrice by Page McBrier. It tells a true story of a poor girl from Africa who received a milking goat through Heifer's International. The milk from the goal provided money the family needed to send Beatrice to school. Beatrice went on to graduate from high school, college and even received her Master's Degree here in the United States.
Our students set goals at the beginning of the year and each class has a motivational chart that shows their progress toward their goal. This year, our students collected and saved $600 to give. With this money, we were able to buy a goat, a llama, a pig, rabbits, flocks of baby chicks, flocks of chickens and honeybees!
This giving project inspired our primary students to come up with their own giving projects, so each grade level has a different project. Giving has become a part of the mission of our students and community. We are inspired to learn, empowered to lead, and enriched to give!
| | | | |
| --- | --- | --- | --- |
| Item Gifted | Quantity | Cost of Item | Total |
| A Goat | 1 | $120.00 | $120.00 |
| Flock of Chicks | 3 | $20.00 | $60.00 |
| Rabbits | 1 | $60.00 | $60.00 |
| Honeybees | 1 | $30.00 | $30.00 |
| A Llama | 1 | $150.00 | $150.00 |
| Flock of Hope | 1 | $60.00 | $60.00 |
| A Pig | 1 | $120.00 | $120.00 |
| Total Gifted | | | $600.00 |
The Rosemead School District is proud of the Encinita upper graders who through their gracious hearts have helped make a difference in the world.
---
SCHOOL MEAL PROGRAM REGISTRATION – AUGUST 1 – 5, 2016
The Nutrition Services Department will be hosting their annual School Meal Program Registration during the week of August 1 – 5, 2016! The registration schedule is listed below (parent/guardians can go to any of the school sites listed, regardless of which school their child attends within the Rosemead School District):
| | | | |
| --- | --- | --- | --- |
| DATE | SCHOOL | ADDRESS | TIME |
| Mon., Aug. 1, 2016 | Encinita Elementary | 4515 Encinita Ave. | 8a.m. - 2p.m. |
| Tues., Aug. 2, 2016 | Janson Elementary | 8628 Marshall St. | 8a.m. - 2p.m. |
| Wed., Aug. 3, 2016 | Savannah Elementary | 3720 Rio Hondo Ave. | 8a.m. - 2p.m. |
| Thurs., Aug. 4, 2016 | Shuey Elementary | 8472 E. Wells St. | 8a.m. - 2p.m. |
| Fri., Aug. 5, 2016 | Muscatel Middle School | 4201 Ivar Ave. | 8a.m. - 2p.m. |
A new meal application must be submitted every school year. Eligibility is based on current household income and household size. Eligibility is not based on last year's status. Each household must have a completed meal application for the 2016-2017 school year on file to be eligible to receive free or reduced-price meals (unless Directly Certified due to participation in certain assistance programs, including CalFresh, formally known as Food Stamps, CalWORKS, FDPIR, and KinGAP). If you have any questions, please call (626) 312-2900 x254 or 255.
---
ROSEMEAD SCHOOL DISTRICT CONTINUES ITS IMPLEMENTATION OF THE FRANKLIN COVEY®, 7-HABITS BY RECERTIFYING ITS MANAGEMENT TEAM
The Rosemead School District continues its journey and implementation of the Franklin Covey®, 7-Habits throughout the district at all levels by recertifying its Management Team members.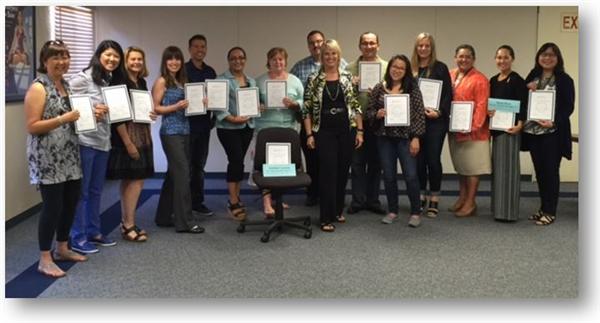 Pictured (L to R) front row: Mrs. Jan Brydle, Shuey Principal; Dr. Jennifer Fang, Encinita Principal; Mrs. Deborah Lawrence, Administrative Intern – Child Development; Mrs. Krista Dixon, Director of Nutrition Services and Wellness; Mr. Gabriel Cardenas, Janson Principal; Mrs. Cynthia Bracamonte, Executive Assistant to the Superintendent; Mrs. Karen Carr, Coordinator, Migrant Education; Mrs. Kathy Leeser, Franklin Covey Consultant; Mrs. Bich Do, Psychologist; Mrs. Ginny Ford, Muscatel Assistant Principal; Mrs. Ruth Soto, Savannah Principal; Mrs. Dawn Rock, Director of Special Education and Student Support Services; and Dr. Amy Enomoto-Perez, Superintendent. Back row: Mr. Alex Gaeta, Network Administrator and Dr. Salvador Ardón, Psychologist. Not pictured: Ms. Armida Carreon, Assistant Superintendent, Business Services.
---
IMPORTANT DATES & UPCOMING EVENTS:
For more information on any event listed below, please visit the Rosemead School District website at www.rosemead.k12.ca.us.
July
Mon., Jul. 4, 2016 Independence Day Holiday (District/Schools Closed)
Mon., Jul. 11, 2016 Last Day of Summer School, 8:00 a.m. – 12:00 noon
August
Mon., Aug. 1, 2016 School Meal Program Registration, 8:00 a.m. – 2:00 p.m., Encinita
Mon., Aug. 1, 2016 KSART / ASART Registration begins at the District Office, 8:00 a.m.
Tues., Aug. 2, 2016 School Meal Program Registration, 8:00 a.m. – 2:00 p.m., Janson
Wed., Aug. 3, 2016 School Meal Program Registration, 8:00 a.m. – 2:00 p.m., Savannah
Thurs., Aug. 4, 2016 School Meal Program Registration, 8:00 a.m. – 2:00 p.m., Shuey
Fri., Aug. 5, 2016 School Meal Program Registration, 8:00 a.m. – 2:00 p.m., Muscatel
Fri., Aug. 5, 2016 Last Day of Rosemead School District - Summer Camp
Tues., Aug. 16, 2016 Last Day of Preschool
Mon., Aug. 22, 2016 1st Day of School – 2016-2017 School Year