HAPPY LUNAR NEW YEAR FROM THE ROSEMEAD SCHOOL DISTRICT FAMILY

A TRIBUTE AND EXPRESSION OF APPRECIATION TO MR. DENNIS SCOTT MCDONALD, A VERY DEDICATED MAN – WHO ENDLESSLY SERVED THE ROSEMEAD SCHOOL DISTRICT STUDENTS, FAMILIES, SCHOOLS, AND COMMUNITY

Dennis retired from the Rosemead School District Board of Trustees in May 2015. He enjoyed the arrival of his first grandchild this fall. He and his wife Marianne were very active in our community's and they loved children. Dennis was a former Mayor and City Councilman in the City of Rosemead. Marianne retired from El Monte City School District as an instructional aide.

Dennis was an alumni of the first 6th grade class at Emma W. Shuey Elementary School, an alumni of Muscatel Junior High and Rosemead High School. He was always proud to let me know he met Marianne when they both worked at Toy Town. They were a couple ever since.

Dennis served on or led on 2 of the 3 school general obligation bond committees and campaigns. In addition, he was always volunteering to make hot dogs or pancakes for the Educational Foundation for the Rosemead School District events or After School Education and Safety (ASES) program. Dennis volunteered many hours with our State & National Science Olympiad team as well. He was always someone that one could count on for assistance. He was a founding father of our Educational Foundation.

Dennis served several terms on the board in the 80's and was once again elected to serve as a board member after he retired as Chief of the El Monte City Fire Department. He loved golf and fishing but in retirement he also wanted to continue serving his community. Therefore, he chose to run for the school board.

I know Dennis would want to be remembered as making a difference. I can surely attest to that. He was always so generous with his time, money, intellect, experience and kind spirit. He was always such a positive being, witty, smart and knowledgeable and a great cheerleader.

He was quick not to take credit for his service. He would work behind the scenes, cleaning, moving furniture or helping with Spring Festival (Shuey) set up. One knew he was there but he was always selfless in his efforts and deeds.

Dennis will be missed by us all. He was an outstanding leader, great man, husband, father and all around good guy - aka a great human being!

Rosemead School District is grateful for his service to our children, students, staff and families. Dennis was a model and the epitome of service. We give thanks and appreciate the McDonald family for sharing Dennis with us.

Please keep Dennis and his family in your thoughts and prayers during this difficult time.


ROSEMEAD SCHOOL DISTRICT ANNOUNCES THE RECOGNITION TO ENCINITA ELEMENTARY SCHOOL STUDENTS AND STAFF BY THE PANDA RESTAURANT GROUP, INC. FOR ITS ACHIEVEMENTS IN THE LEADER IN ME PROGRAM THROUGH THEIR ANNUAL HOLIDAY PARTY
The Panda Restaurant Group, parent company of Panda Express hosted its 8th annual holiday party for local elementary school students on Friday, December 11, 2015 in recognition of their accomplishments as a "Lighthouse School" in The Leader in Me program.
This year, Panda has chosen to acknowledge Encinita Elementary School for achieving the "Lighthouse" status within the Leader in Me program. "Lighthouse recognition comes because of the results a school is achieving and the impact it is having on staff, students, parents, and the greater community. We are very proud of our principal, students and staff at Encinita School," said Superintendent Dr. Enomoto-Perez.
The celebration begins at 9:00 a.m. at the Panda Restaurant Group headquarters in Rosemead, California, where over 475 students were treated to a delicious Panda Express lunch, a carnival created by the Support Center associates and organized through Panda Cares program, special appearances by Santa & loved characters, along with a fun filled day.
The Panda Restaurant Group is a business partner in the Leader in Me program. The Panda Charitable Foundation which supports the health and educational needs of underserved children is of great assistance. The Leader in Me program is a school program that integrates timeless leadership principles with practical character and life skills relevant to today's challenges. By building self-confidence, interpersonal skills, elevating student achievement and reducing school-wide discipline problems, this program helps children become leaders in their field of interest.
Encinita's journey toward becoming a Lighthouse School has been a very authentic process of growing student leaders and realizing they are capable of much more than we ever expected. Our school was already a good school, but visiting A.B. Combs, the first Leader in Me and Lighthouse School and meeting Muriel Summers, their principal, inspired us and gave us a vision for how our school can become great. Achieving the Lighthouse status means so much to our students, staff, and parents, as well as community. To us, being a Lighthouse means each of us is a "light", serving as a beacon shining positive character and brightening the world around us.
For the past eight years, principals previously included Mrs. Dawn Rock, and now under the leadership of Principal Dr. Jennifer Fang, they and the entire Encinita Team worked together to create an authentic leadership culture that has transformed the school and community. Every single child is a leader on campus with special roles/jobs in every classroom and school-wide. Becoming a Lighthouse School was no easy feat. The rigorous new process involves 144 criteria that must be met. The areas involved include: Lighthouse team, leadership environment, integrated instruction and curriculum, staff collaboration, student leadership environment, parent involvement, goal tracking, measurable results, and leadership events.
"Achieving this milestone is a wonderful recognition of all of our hard work. We are all very proud of our school, students, staff, parents, and community," said Principal Dr. Fang. "The entire staff consistently models the Leader in Me paradigms. The leadership framework guides our actions. Every staff member has a key role to play in the development of student leaders. Last year, we synergized to create our school mission statement: "Inspired to Learn, Empowered to Lead, Enriched to Give." This statement exemplifies not only what we want as a school but has become each person's individual life mission. It's truly extraordinary that our students realize how much they have been given in life, which motivates them to give back to others. Every class comes up with their own giving projects each year and they blow us away with their generosity and kind hearts. We feel like we are a Mini Panda Corporation, where each Panda staff voluntarily gives of their time, resources, and finances, so we are also doing the same. The spirit of giving has been very contagious," said Dr. Fang.
"Encinita School and the Rosemead School District appreciate all of the efforts of Panda Restaurant employees on behalf of our children," said both Principal Dr. Jennifer Fang and Superintendent Dr. Amy Enomoto-Perez.
The Rosemead School District Board and administration are proud to have Encinita students selected and honored during Panda's annual holiday party. On behalf of Encinita Elementary School students and staff, the Rosemead School District thanks the Panda Restaurant Group for the honor.
JOIN US AT THE ANNUAL CASINO NIGHT FUNDRAISER MASQUERADE BALL BY THE EDUCATIONAL FOUNDATION FOR THE ROSEMEAD SCHOOL DISTRICT
EDUCATIONAL FOUNDATION FOR THE ROSEMEAD SCHOOL DISTRICT
ANNUAL CASINO NIGHT FUNDRAISER
MASQUERADE BALL / SILENT AUCTION
Saturday, March 12, 2016
Almansor Court, 700 S. Almansor St., Alhambra, CA 91801
6:30 p.m. Check-in & Bar Opens 7:00 p.m. Dinner 8:00 p.m. Tables Open
Early Bird Ticket Rates: Single $35 / Table of 10 $350
Early Bird Rate ends 2/12/2016
Regular Ticket Rates: Single $45 / Table of 10 $450
Tickets will not be sold at the door
General Seating. Reserved seating for Table Sponsors.
For more information, visit us at www.facebook.com/rosemeadeducationalfoundation
Contact: Ron Esquivel, (818) 419-1970, Rejn316@earthlink.net
ROSEMEAD SCHOOL DISTRICT REDEDICATES THE MUSCATEL MIDDLE SCHOOL FITNESS ROOM AFTER COMPLETION OF CONSTRUCTION
The Rosemead School District held it's rededication of the Muscatel Middle School Fitness Room on Thursday, December 10, 2015 at 6:30 p.m. The rededication ribbon cutting ceremony was well attended by district administrators, members of the Citizens' Bond Oversight Committee, and community members who joined the Rosemead School District in celebrating the completion of the Muscatel Middle School Fitness Room.

The Superintendent Dr. Amy Enomoto-Perez thanked the Board of Trustees for its leadership and the Rosemead community and dignitaries for its support of all the district's schools.
Pictured (left to right): Oversight Member Mr. Fred Mascorro, Board Member Mr. John Quintanilla, Board Clerk Mrs. Rhonda Harmon, Board President Mr. Ronald Esquivel, Board Member Mr. Randall Cantrell, Teacher Ms. Lisanne Kern, Principal Ms. Jessica Ancona, Superintendent Dr. Amy Enomoto-Perez, and Assistant Principal Mrs. Ginny Ford.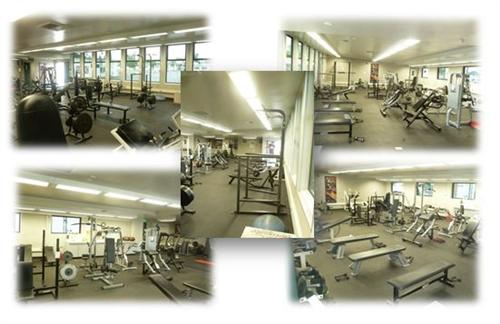 "Great things are happening everyday District at every school in the Rosemead School District," Superintendent Dr. Enomoto-Perez said. "The learning environment at Muscatel Middle School is the product of parent, student, teacher and community involvement and dedication over the years. With the recent initiatives against child obesity, the new Muscatel Fitness Room will provide a more modern learning environment for all Mustangs, where students will find new opportunities in the areas of health, body image and physical activity. This is a landmark event for all of Muscatel and its educational system. It is a testament of the progress the Rosemead School District is making in preparing our young people for healthy futures."

The Fitness Room was designed for our students in grades 7-8. The Muscatel Fitness Room was funded through the Rosemead community through the General Obligation Bond and other District monies.
A special thank you to the Rosemead community, the Citizens' Bond Oversight Committee Members, and staff who honored us with their attendance during our rededication ceremony.
The rededication ceremony concluded with a small reception and tour of the renovated Mustang Fitness Room.