Dear Rosemead Community and Friends,
1ST DISTRICT PTA HOSTS ANNUAL SUPERINTENDENT AND ADMINISTRATORS LUNCHEON
The 1st District PTA hosts a Superintendent and Administrators Luncheon each year. This year the leadership event was held at the Embassy Suites in Arcadia. The luncheon featured California State PTA Chairman of the Board of Directors and Chief Executive Officer Mrs. Justine Fischer as its main speaker. She spoke about the important relationship that exists between PTA and our schools.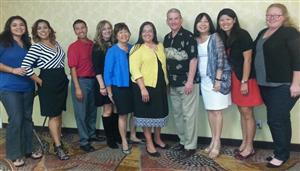 Pictured (L to R): Ms. Ana Karenina Chucuan, Savannah PTA VP; Ms. Tatiana Pacheco, Savannah PTA President; Mr. Gabriel Cardenas, Janson Principal; Mrs. Ginny Ford, Muscatel Assistant Principal; Mrs. Jan Brydle, Shuey Principal; Mrs. Ruth Soto, Savannah Principal; Mr. Dean Wharton, PTA Council President; Dr. Amy Enomoto-Perez, Superintendent; Dr. Jennifer Fang, Encinita Principal; and Ms. Leah Kilpatrick, Shuey PTA VP.
BUILDING BRIDGES WITH OUR ROSEMEAD SCHOOL DISTRICT COMMUNITY THROUGH NEW COMMUNICATION TOOL "ROSEMEAD MOBILE APP"
Building a strong, empowered community is at the heart of any successful education institution and is transformative in the lives of students, educators and parents. Many of our parents work multiple jobs, with irregular schedules, making it challenging for even the best-intentioned parents to stay involved with their child's school.
Here in the Rosemead School District, we believe we must engage our families as partners in meaningful ways. To do this, we spend many hours trying to continuously build bridges between our parents and schools.
Modern technology is changing the way we can communicate with parents. Our new Rosemead App available free for Apple (iPhone, iPad) or Android (Phone, Tablet) will encourage and ensure even greater communication in several languages. Data rates may apply, so please be sure to check with your carrier to avoid additional charges. Please read on and take a look below on how you can secure the FREE application for your Smartphone. To view the instructions, visit our website at www.rosemead.k12.ca.us.
LAUNCH OF THE NEWLY DESIGNED "ROSEMEAD SCHOOL DISTRICT" WEBSITE
The Rosemead School District prides itself in continuously looking for ways to improve and keep its communication lines open with the Rosemead community, families, students, and staff.

Please take a moment to visit our newly designed District website at www.rosemead.k12.ca.us or to visit a specific school website, select your school below:
All our new websites have been designed to be interactive and engage all visitors in up-to-date information. The new design is more streamlined with quick links to reach the most important and urgent information in a matter of a couple clicks. The design is a result of a "parent-oriented" structure and organization in order to ensure information is at your fingertips.
We hope you enjoy the new design and encourage you to sign up for push notifications/RSS feeds.
Other topics include:
Important Dates and Upcoming Events