Rosemead SD is committed to providing accurate and transparent information regarding COVID-19 cases on its campuses and work locations, while also maintaining privacy and confidentiality for its students and staff.

Data will be updated to reflect enrollment changes, and as student and staff, COVID-19 cases on school campuses and at RSD facilities are confirmed.

Updates will be posted every Monday for the previous week.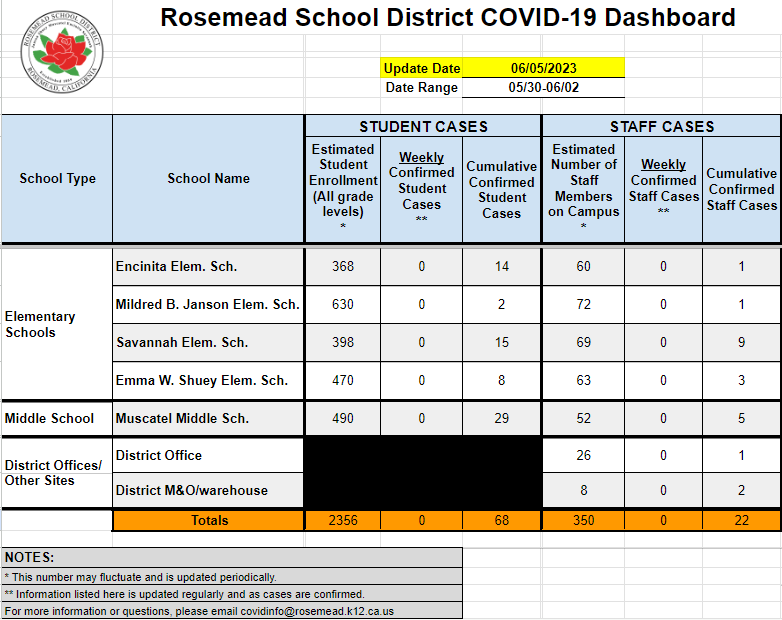 Resources
Residential households in the U.S. can order one set of 4 free at-home COVID tests from USPS.com. Shipments will begin end of January, 2022.

Website contains resources and information for K-12 schools.

Webpage containing newly released information regarding vaccines.

Webpage with information re an additional primary (3rd) dose is strongly recommended for people age 5 and older with moderately or severely weakened immune system.

Webpage summarizes booster dose schedule for Pfizer, Moderna, and Johnson & Johnson primary vaccine dose recipients.

Webpage regarding booster dose and immunocompromised sections are updated.

Webpage summarizes information on what to expect after and the benefits of being fully vaccinated.

Summarizes eligible ages for primary, additional, and booster doses for FDA approved/authorized COVID-19 vaccines.