Special Diet and Meal Accommodations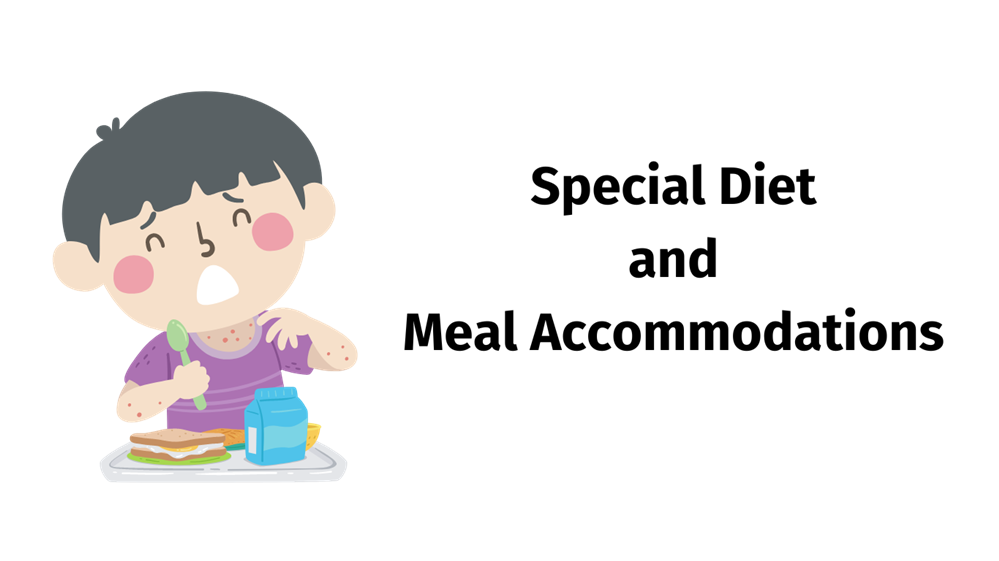 The Nutrition & Wellness Department Services is committed to providing reasonable accommodations to students in need of dietary modifications that are supported by a medical statement. Staff and parents are encouraged to further explore the Food Services Web page for resources for students with special dietary needs. These include a Medical Statement form, Nutrient Lists, Allergy Information table and other important information.
Meal Accommodation Forms
Meal Accommodation Form

The completion of the Medical Statement is required to ensure that the modified meal is reimbursable, and to ensure that any meal modifications meet nutrition standards that are medically appropriate for the child. The current regulations outlined in Title 7, Code of Federal Regulations (7 CFR) sections 210.10(m) and 220.8(d) requires Food Services Department to make food and beverage substitutions for students whose disabilities restrict their diet. Under current requirements, before a meal substitution is made for a student with a disability, we require to have documentation signed by a recognized state medical authority that includes the following items:

Description of the student's disability
Description of the student's major life activity affected
Description of how the disability restricts the student's diet
Foods to be omitted from the student's diet
Foods to be substituted for omitted foods in the student's diet

Medical Statements are in effect until the condition changes or until the student transfers, promotes to a new school, or leaves the district. If the condition changes, a revised Medical Statement form signed by a recognized medical authority must be submitted.

For children with disabilities who only require modifications in texture (such as chopped, ground, or pureed foods), a recognized medical authority's written instruction, indicating the appropriate food texture is recommended.
---

Frequently Asked Questions (FAQs)

Q: I just submitted a medical statement, how long will it take until the cafeteria will accommodate my child's meal

A: It takes 3-5 business days, sometimes sooner, before meals are accommodated. The reason behind it is that we require time to review the medical statement, purchase the product if it is not available, and communicate the diet plan to our Food Services Assistants. It is highly recommended to provide a meal from home the next couple of days upon submitting the medical statement form.

Q: My child follows a diet based on religious reasons or personal preferences (i.e. Vegetarian, Keto, Paleo)

A: The Nutrition & Wellness Department offers a wide variety of menu options that are available at all cafeteria. Students who go through the line always have at least two meal options to select. Meatless items and menu items containing pork are always indicated on the menu with a symbol. This allows parents to review the menu with the student. Additionally, we always offer a meatless option for breakfast and lunch daily.

Q: My child is lactose intolerant

A: Please complete a Fluid Milk Substitution. This form requires a signature from a parent/guardian. Submit it to the Health Clerk, Nurse, or Senior Food Services Assistant.Please note that due to mandated USDA regulations, we are only allow to offer milk substitutions that meet certain nutritional requirements. Based on what is currently available in the market, Silk® Very Vanilla Soymilk is main milk substitutions we can only provide in our cafeteria.Additionally, we also offer LACTAID® for those who can tolerate cow's milk but not the protein lactase.

Q: My child is unable to drink soy milk or cow's milk

A: Please provide a Medical Statement signed by a State Licensed Healthcare Professional. In California, this is a licensed physician, physician assistant, or nurse practitioner. In order for Food Services Department to accommodate alternative milk options that are not Soymilk or LACTAID®, a State Licensed Healthcare Professional must complete and sign the note and provide a list of acceptable substitutions. No exceptions. It should take 3-5 business days for Food Services Department to process due to logistical reasons.

Q: My child is allergic to fluid milk only, they can have cheese pizza and yogurt

A: The Nutrition & Wellness Department takes a conservative approach when it comes to interpreting Medical Statements. For example, if a State Licensed Healthcare Professional writes dairy as a food restriction. Food Services will omit ALL food items that contain dairy derivatives. For clarification purposes, it is highly encourage for your State Licensed Healthcare Professional to be specific on what should be omitted (i.e. Fluid Milk).

Q: Do I need to complete a new medical statement or fluid substitution form every year

A: No. The medical statement or fluid substitution form is in effect until the student leaves the district. We only require a new medical statement signed by a State Licensed Healthcare Professional if the student's condition changes and require a different diet modification. We do not accept verbal request.

Q: My child has diabetes. What can be done to monitor their intake at school?

A: Nutrient Information report is available for review. It includes carbohydrate contents of menu items that are served at all school sites.

For additional and more specific information, contact John Rivera at (626) 312-2900 ext. 255
USDA Nondiscrimination Statement

In accordance with Federal civil rights law and U.S. Department of Agriculture (USDA) civil rights regulations and policies, the USDA, its Agencies, offices, and employees, and institutions participating in or administering USDA programs are prohibited from discriminating based on race, color, national origin, sex, religious creed, disability, age, political beliefs, or reprisal or retaliation for prior civil rights activity in any program or activity conducted or funded by USDA. Persons with disabilities who require alternative means of communication for program information (e.g. Braille, large print, audiotape, American Sign Language, etc.), should contact the Agency (State or local) where they applied for benefits. Individuals who are deaf, hard of hearing or have speech disabilities may contact USDA through the Federal Relay Service at (800) 877-8339. Additionally, program information may be made available in languages other than English.To file a program complaint of discrimination, complete the USDA Program Discrimination Complaint Form, (AD-3027) found online at: How to File a Complaint, and at any USDA office, or write a letter addressed to USDA and provide in the letter all of the information requested in the form. To request a copy of the complaint form, call (866) 632-9992. Submit your completed form or letter to USDA by: (1) mail: U.S. Department of Agriculture Office of the Assistant Secretary for Civil Rights 1400 Independence Avenue, SW Washington, D.C. 20250-9410; (2) fax: (202) 690-7442; or (3) email: program.intake@usda.gov. This institution is an equal opportunity provider.